Corredores Ferroviarios, UGOMS and UGOFE
Management and operation of intercity trains
With the knowhow and the professional experience of its team in operating different means of transport, BRt has consolidated throughout the years as the main Company in comprehensive operation of services of railway transport.
Since 2005 BRt, as part of the emergency operative company UGOFE, and since 2012 also through UGOMS managed the operation of Roca, San Martin, Belgrano Sur, Mitre and Sarmiento railway lines.
In February 2014, the Ministery of Interior and Transport of the Nation dissolved both business partnership and from that moment BRt became part of the Company Corredores Ferroviarios S.A. for the operation of Mitre and San Martin Lines.
Corredores Ferroviarios operated these intercity passenger services from February 2014 to March 2015 accompanying the decision of the National State of starting a substantial change in both networks with the incorporation of a new fleet of rolling stock, comprehensive refurbishing of stations and level crossings, renewal of tracks among other.
Line Mitre provides service in three lines which connect Terminal Retiro with Bartolome Mitre (Vicente Lopez City), Jose Leon Suarez (San Martin City) and Tigre (Tigre City). These electric services transport almost 2 million people per month and they are complemented with their extensions of diesel service to Zarate and Capilla del Señor; reaching a total of 55 stations.
On the other hand, San Martin Line provides a passenger service between Retiro and Dr. Domingo Cabred Stations (Lujan City), with intermediate terminals in Jose C. Paz and Pilar. The Line transports around 3 million passengers per month along its 70km of extension with 22 stations.
Corredores Ferroviarios management
Comprehensive refurbishing Works of stations and level crossings.

Raising of platforms.

Comprehensive improvement of operation and operative security of the service.

Put in operation 0km new Rolling stock fleet.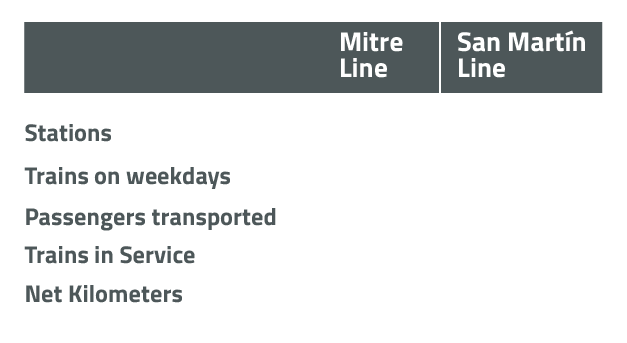 Satisfaction with the service in both lines in february 2015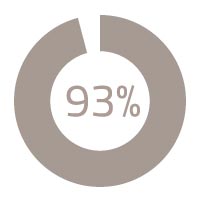 Line Mitre Branch Bme. Mitre